Dr. Caron Daugherty
Dr. Caron L. Daugherty began her tenure as Flint Hills Technical College's seventh president in July of 2021.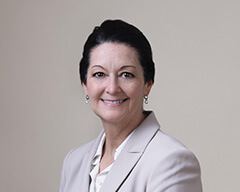 President Daugherty has 28 years of diverse higher education experience, including roles as an academic advisor, a faculty member, a director of grants and an honors program, a dean, and in executive positions as a vice president and as a vice-chancellor of instruction. She has been a part of the community-technical college landscape since 2002. Dr. Daugherty also serves as a Higher Learning Commission Peer Reviewer and as a Peer Review Chair. Recognitions include National Academic Advising Association Outstanding Advisor and Moraine Park Association of Career & Technical Education (MPACTE) Administrator of the Year.
Dr. Daugherty received her bachelor's and master's degrees from Missouri State University, her Ed.D. in Educational Leadership and Policy Analysis from the University of Missouri, and an Executive Leadership Certificate from Cornell University.
Building relationships and connecting with community and partners are part of President Daugherty's Engagement Plan. Find the full plan as well as other information about FHTC below.
Engagement
Community Engagement Survey_Spring 2022
View Link
College Information