Real-world applications and clinical experiences prepare Practical Nursing students for a rewarding career working to prevent illness and restore health. Students will learn to give skilled compassionate care in structured care settings and will be prepared to take the NCLEX-PN exam upon graduation.
I chose FHTC because of the faculty and staff. I've never met a more caring group of educators that help their students learn so much. Plain and simple, FHTC was the easiest decision I've made in my education.
Ashley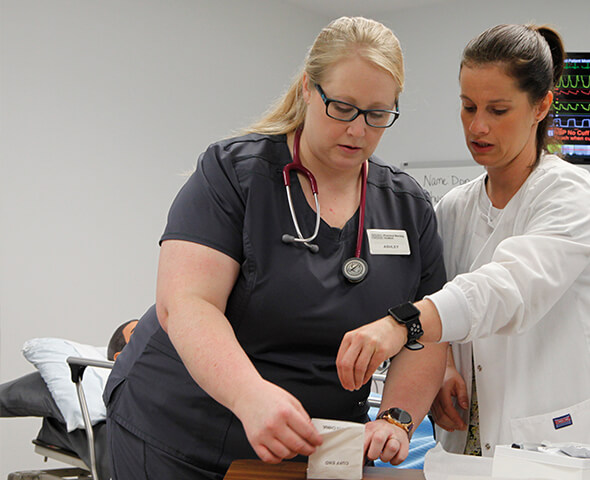 Program Options
The Practical Nursing program offers a technical certificate option.
The program contains technical education courses and is a one-year, two-and-a-half-semester program. Students participate in planned and supervised experiences—classroom, laboratory, clinical experience—directed toward performing nursing measures with precision, safety and efficiency consistent with nursing concepts and standards. Students will learn to give skilled bedside care to patients with less complex conditions in structured care settings. Upon graduation, students will be prepared for an entry-level position as an LPN.
Learn more about Practical Nursing and what the 11-month program offers.
The Practical Nursing Program is approved by the Kansas State Board of Nursing. Landon State Office Building, 900 SW Jackson Street, Suite 1051, Topeka, KS 66612-1230,  785-296-4929, Fax: 785-296-3929 www.ksbn.org
Application Deadline and Requirements
Technical Certificate Course Requirements
Career Opportunities
Currently, there is a high demand for well-educated professionals who work to prevent illness and restore health. The LPN provides skilled nursing care under the supervision of registered nurses, nurse practitioners, and physicians. LPNs work with patients across the lifespan, from newborn to geriatrics.
Career opportunities include:
Hospitals
Health Clinics
School Nursing
Physician Offices
Home Health Agencies
Long-term Care Facilities
Program Information & Resources
Estimated program costs and testing criteria​ are available in the documents below. Visit our admissions page to learn about admissions steps and other helpful information.