Led by ASE-certified instructors, the Automotive Technology program provides interactive, hands-on instruction on state-of-the-art automotive service repair techniques. Real-life working conditions and equipment prepare students for employment as automotive technicians at dealerships or independent auto repair shops. Students spend 80 percent of their instruction time in the lab.
I chose the Automotive Technology program at FHTC because it offered real-world auto shop experience. The outstanding instructors really care about their students and I learned the skills needed to be successful in my future.
Andrew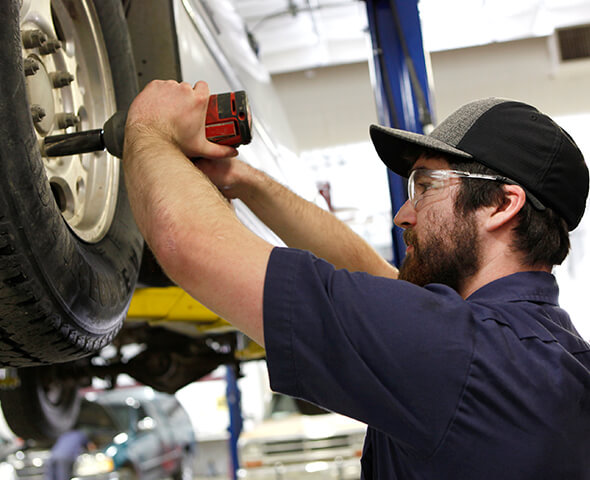 Program Options
Automotive Technology offers an associate of applied science degree and a technical certificate option. Classes are offered on the Emporia main campus and in Garnett, Kansas. High school seniors and juniors are also eligible to apply to this program.
The technical certificate is a one-year program. Graduates will have the knowledge and skills needed to apply theoretical concepts and perform diagnostic and repair procedures. For graduates opting to continue their education, these courses are transferable to the Automotive Technology AAS degree program.
The associate of applied science degree is a two-year program that contains technical and general education courses. Graduates will be prepared for a wide variety of careers or may choose to continue their education through our academic partnerships.
Associates Degree Course Requirements
Technical Certificate Course Requirements
Career Opportunities
Automotive Technicians diagnose and repair a wide range of vehicles including passenger cars and light trucks, SUVs and, four-wheel drive vehicles. The automotive industry is high-tech, with state-of-the-art computers being used to control all major automotive systems.
Career Opportunities Include:
Car Dealership Technician
Automotive Service Industries
Service Manager
Retail Auto Parts
Automotive Parts Sales
Academic Partnership
FHTC students who complete an Associate of Applied Science degree in Automotive Technology may be eligible to utilize a 2+2 agreement with the following institutions to further their education.
Fort Hays State University: Bachelor of Technology Leadership
Kansas State University: Bachelor of Science in Technology Management
Pittsburg State University: Bachelor of Applied Science
Washburn University: Bachelor of Applied Science
Program Information & Resources
Estimated program costs and testing criteria​ are available in the documents below. Visit our admissions page to learn about admissions steps and other helpful information.
Automotive Technology Cost Sheet - High School Students
View Document